New Best Start - Nursery - School Age Grants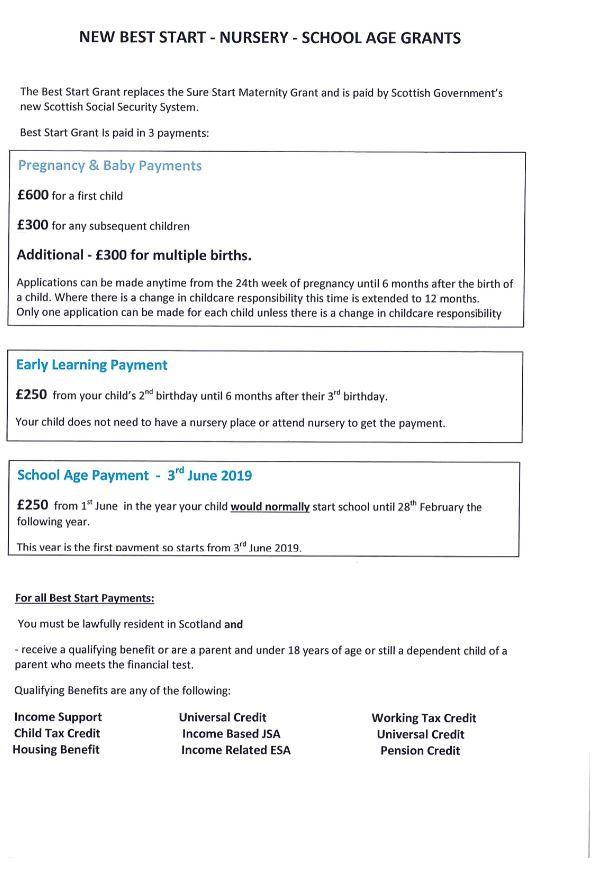 Payments will usually be made into bank or credit union accounts of your choice and will not affect your other benefits. More information on who's eligible and how to apply can found at https://www.mygov.scot/pregnancy-and-baby-payment/ You can apply online, by post or by phone on 0800 182 2222. This is a Freephone number.
More information is on this latest guide
New Best Start Foods
A new payment from the Scottish Government to replace UK Governments Healthy Start Voucher scheme and will replace the paper vouchers with a new payment card, giving you more flexibility in how you use it.
If you are already receiving Healthy Start you will continue to do so until you are contacted by Scot Gov and moved over to the new system.
You can use the card to buy:
Fresh Eggs
Milk/First Infant Formula
Fruit & Vegetables
Pulses
How much will I get?
You will get £17.00 every 4 weeks during pregnancy and for any children aged one to three.
You will get £34.00 every 4 weeks while you have a child under 1.
More information can be found in the factsheet.
KEEP CHECKING THE WEBSITE OR NOTICEBOARD IN THE CALVAY OFFICE FOR MORE NEWS AND UPDATES!