Privacy Notice
CUSTOMER PRIVACY NOTICE
(How we use your personal information)
This notice explains what information we collect, when we collect it and how we use this. During the course of our activities, we will process personal data (which may be held on paper, electronically, or otherwise) about you and we recognise the need to treat it in an appropriate and lawful manner. The purpose of this notice is to make you aware of how we will process your personal data.
Who are we?
Calvay Housing Association, registered as:
a Scottish Charity (Scottish Charity Number SC039234),
a registered society under the Co-operative and Community Benefit
Societies Act 2014 with Registered Number 2194 RS, and;
Registered with the Scottish Housing Regulator, registration number HAC80
Registered Property Factor, No. PF000331
and having their Registered Office at:
The Calvay Centre, 16 Calvay Road, Barlanark, Glasgow, G33 4RE
Calvay Housing Association takes the issue of security and data protection very seriously, including compliance with the UK General Data Protection Regulation, the Data Protection Act 2018 and the Privacy and Electronic Communications Regulations.
We are notified as a Data Controller with the Office of the Information Commissioner under registration number Z4998027 and we are the data controller of any personal data that you provide to us.
How we collect information from you and what information we collect
We collect information about you:
• when you apply for housing with us, become a tenant, request services/ repairs, enter into a factoring agreement with ourselves howsoever arising or otherwise provide us with your personal details
• when you apply to become a member;
• from your use of our online services, whether to report any tenancy/ factor related issues, make a complaint or otherwise;
• from your arrangements to make payment to us (such as bank details, payment card numbers, employment details, benefit entitlement and any other income and expenditure related information);
• when you complete surveys or are a member of a scrutiny panel;
We may collect the following information about you:
Personal details: your name, addresses, date of birth, other household members
Contact details: home phone number, mobile phone number and email address
Further details: NI number, gender, ethnicity, disability, health and medical details, marital status, signature, unacceptable behaviour, warnings, criminal activity
Household composition: details of existing accommodation arrangements and family members seeking accommodation with the applicant
Tenancy Details: start and end dates, rent paid, under/over payments, arrears
Payment details: bank account details, 3rd party payment details
Repairs: repairs requested, access details, completion dates
Pseudonymous data: CHA customer account numbers, rent reference number, share membership number
Employment: benefit/council tax status and payments, employment history, education history, tax code, trade union membership, Employment application details, asylum status, criminal record declaration
Location: IP address when you access our website, or recorded via CCTV within our offices / reception
Images: event photographs and CCTV images
Voice Recordings: Dependent upon what information you divulge during any/all conversations with us
We may also record factual information whenever you contact us or use our services, as well as information about other action we take, so that we have an accurate record of what happened.
We may receive the following information from third parties:
• Benefits information, including awards of Housing Benefit/ Universal Credit
• Payments made by you via bank transfer, Allpay or any other method
• Complaints or other communications, regarding behaviour or other alleged breaches of the terms of your contract with us, including information obtained from Police Scotland & Community Safety Glasgow
• Reports as to the conduct or condition of your tenancy, including references from previous tenancies, and complaints of anti-social behaviour
• Information relating to any homeless application you may have submitted, supplied by the relevant local council
Why we need this information about you and how it will be used
We need your information and will use your information to:
• To undertake and perform our obligations and duties in relation to the services we provide
• To respond to repair requests, medical adaptation requests, housing applications or complaints
• To use the information to improve and develop our business and the services we offer
• To keep customers updated on any changes to our supplies or services
• For all other purposes consistent with the proper performance of our operations and business
• To request views on our products and services
• To be able to demonstrate that no applicant for housing is being unfairly discriminated according to protected characteristics.
Sharing of your information
The information you provide to us will be treated by us as confidential and will be processed only by our employees within the UK / EEA. We may disclose your information to other third parties who act for us for the purposes set out in this notice or for purposes approved by you, including the following:
• If we enter into a joint venture with or merge with another business entity, your information may be disclosed to our new business partners or owners;
• If we instruct repair or maintenance works, your information may be disclosed to any contractor;
• If we are investigating a complaint, information may be disclosed to Police Scotland, Local Authority / Council and/or Council Departments, Scottish Fire & Rescue Service and others involved in any complaint, whether investigating the complaint or otherwise;
• If we are updating tenancy details, your information may be disclosed to third parties (such as utility companies and Local Authority / Council and/or Council departments);
• If we are investigating payments made or otherwise, your information may be disclosed to payment processors, Local Authority / Council and/or Council Departments and the Department of Work & Pensions;
• We may share details with our Data Protection Team and/or Legal Advisors
• If we are conducting a survey of our products and/or service, your information may be disclosed to third parties assisting in the compilation and analysis of the survey results;
• If you are using an advice or advocacy service (such as a solicitor, advice agency or the welfare benefits advisor based in Calvay Housing Association's Office) we will share relevant information with them where it is necessary to progress your case.
• If you request that we share your information with other RSLs who may assist in re-housing you.
• If your household is threatened with homelessness, your information may be shared between us and Local Health Authority and Social Care Partnership(s).
• If we are pursuing debts associated with a tenancy or a former tenancy we may share your basic information with a third party agency to assist in the recovery of those debts;
• If we are making an insurance claim following an incident we may share your information with our insurers.
• If we are being audited then we may share your information with our auditors.
• Where there is a legal action that involves you such as action to recover a tenancy your information may be shared with a solicitor to assist in the legal process.
• To fulfil our legal and regulatory obligations to bodies such as the Scottish Housing Regulator, Financial Conduct Authority or the Office of the Scottish Charity Regulator.
• If requested by an emergency service.
• With your consent.
We may disclose your personal data to any of our employees, officers, contractors, insurers, professional advisors, agents, suppliers or subcontractors and healthcare providers insofar as reasonably necessary, and in accordance with data protection legislation.
What are the legal bases for us processing your personal data?
We will only process your personal data on one or more of the following legal bases:
• contract
• consent
• our legitimate interests (including CCTV recordings, telephone call recordings, sending newsletters, next of kin details and retaining historical callout sheets for emergency repairs)
• vital interests
• public interest / official authority
• legal obligation
Special categories of personal data
Special categories of personal data means information about your racial or ethnic origin; political opinions; religious or philosophical beliefs; trade union membership; health; sex life or sexual orientation; criminal convictions, offences or alleged offences; genetic data; or biometric data for the purposes of uniquely identifying you.
The "special categories" of sensitive personal information referred to above require higher levels of protection. We need to meet additional legal requirements for collecting, storing and using this type of personal information.
Transfers outside the UK and Europe
Your information will only be processed within the UK and the EEA (European Economic Area) except where international transfers are authorised by law.
Security
When you give us information, we take steps to make sure that your personal information is kept secure and safe. All information is kept in line with our data protection policies and procedures.
Only Calvay Housing Association staff and partners and contractors who have signed data sharing agreements and who need to see your personal information will have access to it.
We will not usually retain your payment details unless you make payments to us Using Direct Debit.
Our computer systems are located in our main office, however our staff may occasionally use laptops, tablet or other devices offsite, i.e. for homeworking. In instances where devices are used remotely this will be secure and under strict control at all times.
Additionally, we have the following controls in place to ensure the security of your personal information:
• All paper based records are securely locked in storage cupboards when not actively being used.
• Our offices are protected by an alarm system, a security company and are monitored by CCTV.
• All Calvay Housing Association computer servers are within a secure network
• Systems are password protected, patch updates to our servers are implemented and we regularly review system access rights.
• All electronic communication takes place within this secure environment.
The unauthorised use of IT systems is prevented by:
• User ID
• Password assignment
• Lock screen with password activation
How long we will keep your information
We review our data retention periods regularly and will only hold your personal data for as long as is necessary for the relevant activity, or as required by law (we may be legally required to hold some types of information), or as set out in any relevant contract we have with you.
We will generally keep your information for periods as recommended by law or according to best practice and in accordance with our Retention Policy. Once the periods have expired, the information will be destroyed if it is no longer required for the reasons it was obtained.
Our full retention schedule is available by contacting the office on 0141 771 7722, emailing us dpo@calvay.org.uk or from the website: https://www.calvay.org.uk/
Your Rights
You have the right at any time to:
• ask for a copy of the information about you held by us in our records;
• require us to correct any inaccuracies in your information;
• in certain situations, make a request to us to delete your personal data;
• request we restrict processing your personal data;
• object to us processing your personal data; and
• portability
Queries and Complaints
Since 11 November 2019, Calvay Housing Association is considered to be a Public
Authority under the Freedom of Information (Scotland) Act 2002 and is, therefore, required to appoint a Data Protection Officer (DPO). Our Data Protection Officer is provided by RGDP LLP and can be contacted either via phone on 0131 222 3239 or by email: info@rgdp.co.uk
Any questions relating to this notice and our privacy practices should be directed, in the first instance, to Tracy Boyle, dpo@calvay.org.uk, 0141 771 7722.
You also have the right to complain to the Information Commissioner's Office in relation to our use of your information. The Information Commissioner's contact details are noted below:
Telephone: 0303 123 1113
Online: Make a complaint | ICO
The accuracy of your information is important to us - please help us keep our records updated by informing us of any changes to your email address and other contact details.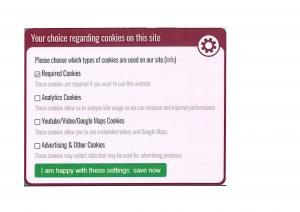 USE OF COOKIES
To make full use of the personalised features of our website, your computer, tablet or mobile phone needs to accept Cookies, as we can only provide you with certain personalised features of our Website by using Cookies.
We use cookies for the following reasons:
(i) To estimate our audience size and patterns;
(ii) To ensure that you are not asked to register twice;
(iii) To track navigation around our website in order to improve its usability.
Cookies are small text files containing information sent by a web server to a web browser, and stored on your computer, tablet or mobile phone when you visit certain web pages. The information is then sent back to the server each time the browser requests a page from the server. This enables the web server to identify and track the web browser.
"Session cookies" keep track of you while you navigate our website and will be deleted from your computer when you close your browser. "Persistent cookies" enable our website to recognise you when you visit, and they remain stored on your computer until deleted, or until they reach a specified expiry date. We use both "session" and "persistent" cookies on our Website. Find out more about cookies here: https://www.aboutcookies.org/
Cookies do not store sensitive information (for example; your name, address or payment details); they simply hold the 'key' which, once you have logged in to a Website, is associated with this information. However, if you prefer to restrict, block or delete Cookies from our website, or any other website, you can use your browser to do this. Each browser is different, so check the 'Help' menu of your particular browser (or your mobile phone's manual) to learn how to change your Cookie preferences. Most browsers allow you to reject all cookies, whilst some browsers allow you to reject just third party cookies. Blocking all cookies can have a negative impact upon the usability of many websites, including our website.
THIRD PARTY COOKIES
When you visit Calvay Housing Association's website you may encounter some Cookies that are not related to our website or company. If you go on to a web page that contains embedded content, for example from YouTube or Google Maps, you may be sent Cookies from these websites. If you 'share' our website content with friends through social networks – such as Facebook and Twitter - you may be sent Cookies from these websites. As we have no control over these Cookies, we recommend you check the third-party websites for more information about their Cookies and how to manage them. You will have to select "You Tube/Video/Google Maps Cookies" from our Cookie Settings Pop-up.
To learn more about the Cookies on your device set by other companies, and opt out of them if you wish, please see the Network Advertising Initiative website. Find out more here: www.networkadvertising.org/choices/
Here is a list of the main Cookies used by Calvay Housing Housing Association, and what they are used for:
| | | |
| --- | --- | --- |
| Name of Cookie | Purpose of Cookie | More Information |
| PHPSESSID | Necessary cookie - preserves user session state across page requests. | Session Cookie |